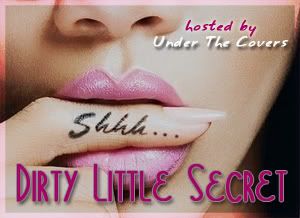 Dirty Little Secret is a weekly meme hosted by us at Under the Covers. Every Thursday we get to know other bloggers and our readers more intimately by asking them a question hoping to reveal their dirty little secrets. We hope that you will all join us!

To participate in the meme all you need to do is:
1. Be a follower of Under the Covers
.
2. Create a post in your blog taking the meme image (code above) and copy instructions.
3. Answer the question we propose! This can be done in any way you like, post a video, write a post etc.
4. Then add your link below.
"
Zombies are attacking your house!
What do you grab first?
"
This is actually a good question for me! I have thought of the zombie apocalypse a lot actually and I've even devised a plan for when this happens. The first thing I would grab is my car keys, then my papa's rifle, and finally my phone. My plan is to hit Walmart's sporting good section and stock up on weapon's, a tent, and everything I need to survive if I needed to hit the woods or somewhere to escape the zombies. The next part of my plan is to hit headquarters of my library, which also happens to be right beside Lowes where I can find supplies to reinforce the library. From there I can pick off the zombies from the second floor windows, wait for my boyfriend and our families to join me, and try to live out the rest of our zombie apocalyptic lives! Of course, I probably won't survive to this point and if I do, the zombies will just surround the library and starve me out, but at least I'll die with some good reading material! Hahahahaha :)
So what do you think of my zombie plan? Amazing or not so much? Leave me a comment with your opinion and your own zombie plan!