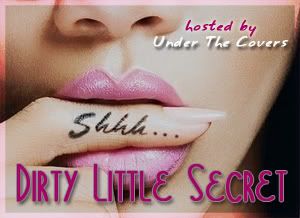 Dirty Little Secret
is a weekly meme hosted at Under the Covers. Every Thursday we get to know other bloggers and our readers more intimately by asking them a question hoping to reveal their dirty little secrets. We hope that you will all join us!
To participate in the meme all you need to do is:
1. Be a follower of Under the Covers.
2. Create a post in your blog taking the meme image (code above) and copy instructions.
3. Answer the question we propose! This can be done in any way you like, post a video, write a post etc.
4. Then add your link below.
This week's question:
Heroes in historical romance like the extremes - the virgin hero or the rogue rake. Which of the two makes you shudder in pleasure?
Oh I totally didn't expect a question like this! I.... prefer a rake most of the time. If they aren't too mean or arrogant, or can pull the arrogance off, then the rake isn't afraid to say what he wants and is ok with being aggressive! I want the hero to have a bit of darkness, to have a couple skeletons in his closet. I like the books where the hero comes walking in with stubble on his chin and bruises on his knuckles because he was off on some debauchery the night before. My kind of rogue is all about giving his chick what she wants while making sure he gets his own too! :)
What about you? What is your favorite in those steamy historical romances? :)