So I found out about NetGalley from another blogger and I am in love with this site! I click request to view titles and the publisher then decides if they want me to read their books and post up a review of it! So if I have the time to breathe this semester, look for those. Actually, just look at this because this is about a book I got from there!
Amazon says:
Kawaii is the Japanese work for cute, adorable, or lovable. Cuteness is a large part of the Japanese culture from Hello Kitty, which emerged in the 1970s, to the cute mascots of today's banks and airlines. Kawaii arises from the need to have a little bit of child-like innocence and naivete in your life, regardless of age or gender. You'll see kawaii mascots for companies like Sanrio, San-x, Tokidoki, and even the Tokyo police force. Kawaii has grown all over the world to inspire cute, iconic characters that are eye-catching in their simplicity.
This book is packed with super-cute sewing projects that you'll actually want to make! Though the instructions are simple enough for a beginning seamstress to get dynamite results, more advanced sewers will be impressed by the variety of projects and the quality of construction. Easy-to-use step-by-step instructions, photos, and patterns guide you through the creation of 22 fun and simple sewing projects. Sidebars throughout the text wil fill you in on techniques to add to your sewing arsenal. Organized from easiest to easy, you'll find clear instructions to sew accessories, simple clothing items, stuffed animal plushes, and great items to decorate your room. You'll be surprised by how easy it is to sew these awesome projects - all that's needed is this book, a sewing machine, some inexpensive fabric, and a few other basic sewing tools. The hardest part will be deciding which project to start on first!
I requested to read Sew Kawaii because of its fun description and cute cover! This book is super cute and has 22 projects with the patterns in the back to sew! I'm a crochet-er not a sewer but I couldn't pass up on the cuteness of this book and I like how the first chapters has a list of materials needed and tutorials with pictures and clear text talking out how to do certain techniques like attaching appliques and such. Each project has a description, a materials list, and the difficulty level along with pictures and a description of how to make it. I found a ton of projects I'm looking forward to trying to make! There are the cutest pillows and bags that I'm in love with! There is a pattern/description of how to make 3 different animal purses and I'd love to make them all! The patterns are for a bird, seal, and platypus purse. A PLATYPUS! There are patterns for purses, keychains, plushies, and even pages showing how to add the cutest extras ever on a hoodie!
I really liked reading this book. I know you don't read books like this cover to cover most of the time but the writing was clear and there were some gorgeous pictures! I can't vouch for the quality of the patterns but I will definitely be trying some of them as soon as I have the time! This isn't the kind of book that you pick through and find 1 or 2 patterns and ideas that you'd like to try. There were actually only 1 or 2 projects I didn't particularly care for! I liked the pictures that went with the descriptions of making the projects or a particular skill. The pictures of the projects were to die for and I can't wait to try my hand at a fox hat, platypus purse, seal purse, jellyfish purse, bird purse (the purses were just so cute!), and make my own super cute animal type hoodie (I'm thinking a fox or maybe a raccoon.)
I keep trying to show you a picture of the cute projects you can find in this great book but I am foiled at every turn! So the best I can do is show y'all a project I like but that I don't feel shows off the books ultimate cuteness! Below is the zombie kitty hat that there is a pattern for in the book. I took the image from the author's etsy page where you can buy it from her if you don't want to try the totally approachable projects in the book!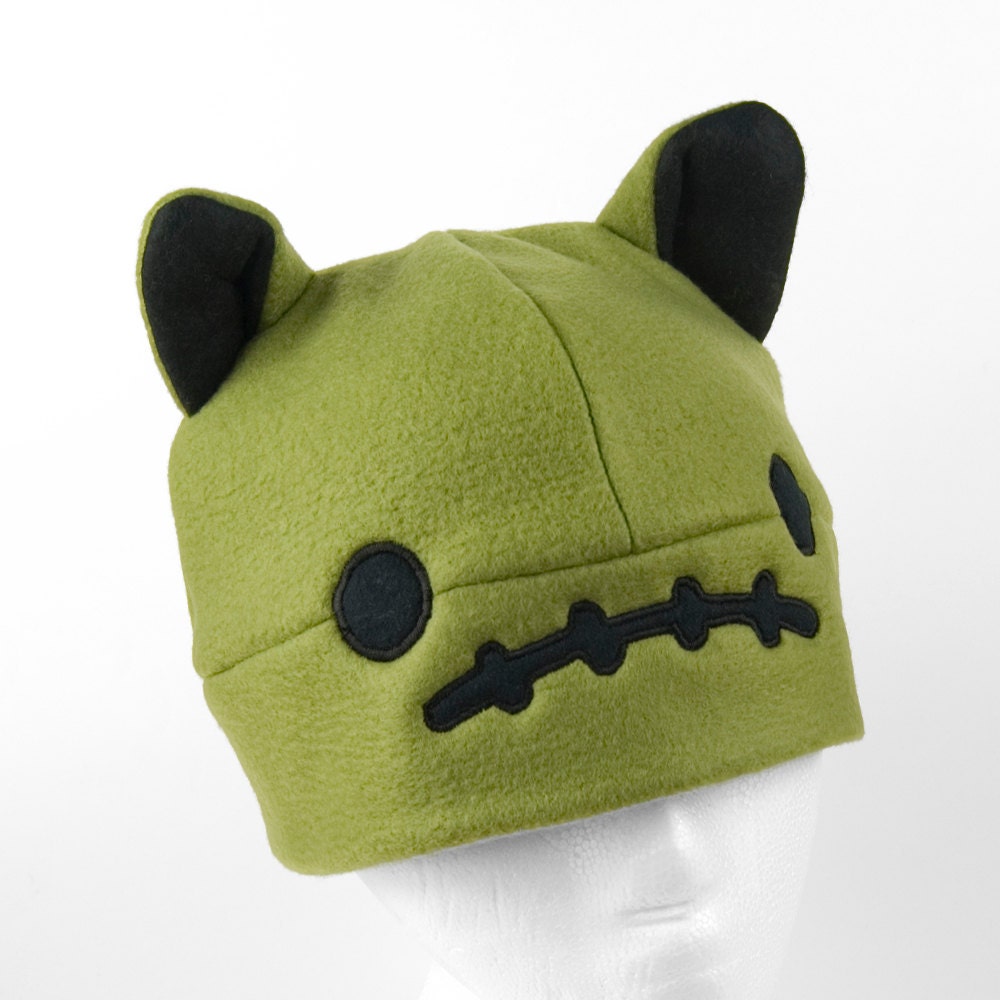 If you want to see more of the projects then I would suggest going to the product's Amazon page and looking inside it- just wait until you get to the purses! and while you're over there, go ahead and pick yourself up a copy! I can almost guarantee you'll love it and find some great projects to squee! about and want to make! (see how I slipped in that "almost guarantee" bit? ha! clever me. no legal standing now mwahah!) But seriously, this was a super cute book and I'm so happy I was able to look through it and see so many great projects I can't wait to try!
I would say this book is pretty amazing based on the projects extreme cuteness and clear writing that make a sewing noob like me feel like I could tackle the projects in this book! I was able to read and review this great sewing book for free but all the thoughts here are my own and I didn't receive anything to give them a positive review. These are my own thoughts! Hopefully I'll be able to put up posts of my versions of the projects to show y'all how I did! :)